Big Cats, Tigers, Lions, Big Cat Public Safety Act,
HELP STOP The Big Cat Public Safety Act!
In reality, the animal rights organizations' messaging about the Big Cat Public Safety Act is a huge scam being sold to lawmakers that takes advantage of their affection for big cats and their trust in the sensationalized media about exotic animals, especially the Netflix sensation, "Tiger King."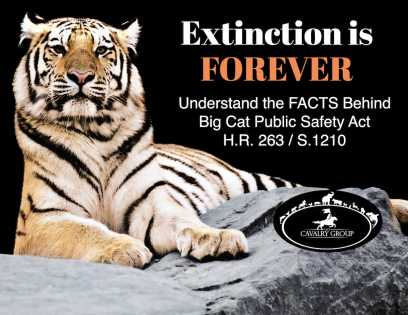 The proponents of the Big Cat Public Safety Act (H.R.263 / S.1210) claim that tens of thousands of captive big cats flood the U.S. to this day, and the number of cats they cite increases each legislative season, despite a complete lack of supporting evidence.

The Big Cat Public Safety Act would have the effect of curtailing existing legal business activity without providing any information about the resultant adverse economic impact, while offering significant challenges for enforcement.
The severe limitations on breeding and continued possession imposed by this bill not only impact the prohibited species already legally maintained but almost certainly ensure the extinction of some of these species in our parks and zoos.