Big Cats, Extinction, Oklahoma, Big Cat Public Safety Act, Legislation, Congress, Senate
Urge Oklahoma U.S. Senator James Lankford to Stand Firm Against Big Cat Public Safety Act.
This legislation is redundant, misleading, and unnecessary while advancing the animal rights, animal abolition agenda.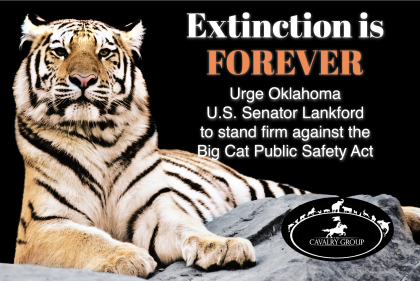 Interesting developments have caused the Big Cat Public Safety Act to stall in the U.S. Senate and animal rights extremist, Carole Baskin (Big Cat Rescue) along with all her corrupt animal rights ilk are all over social media urging their followers to take action with claims that passing this legislation is a "matter of life and death."
When in reality, if the Big Cat Public Safety Act were to pass, it will bring severe limitations on breeding several species of big cats and will not only impact the prohibited species already legally maintained by lawful private owners, but almost certainly ensures the extinction of some of these species in our parks and zoos.
Proponents of the Big Cat Public Safety Act claim that the bill will save thousands of big cats from abuse and exploitation by private owners and prevent those animals and their "negligent owners" from mauling or killing countless members of the public which is completely false and nothing but propaganda.
This legislation is redundant, misleading, and unnecessary!
Please read our Facts About Private Ownership of Big & Exotic Cats:
Is the Big Cat Public Safety Act really about safety? Click Here
Here's what's happening:
The Big Cat Public Safety Act

is a deceptively written piece of legislation pushed by animal rights zealots such as Animal Wellness Action, Carole Baskin, and HSUS.
The measure passed the United States House of Representatives by a vote of 278-134 in late July 2022.
All votes against the Bill were Republican and sadly, 63 House Republicans joined with Democrats to vote in favor of this legislation.
Once the bill got to the Senate, three Senators placed a hold it, preventing it from passing by unanimous consent.
The animal rights groups have put major pressure on the three Senators who place a hold on this legislation, and two of the three have released their holds.
The last and lone Senator standing against the Big Cat Public Safety Act is Senator James Lankford (R-OK) who is currently the

ONLY

Senator stopping the bill from becoming law!
Senator Lankford has gone on record saying the following:
"Senator Lankford has unanswered questions about the Big Cat Public Safety Act's federal preemption over state laws and the weak liability requirements for private owners of big cats. These dangerous animals are a risk to law enforcement and communities. Our office has recommended changes in the text to resolve his concerns, and he is waiting for the bill sponsors to respond.
– SPOKESPERSON FOR SENATOR JAMES LANKFORD (R-OK)
Please join us in sending emails to U.S. Senator, James Lankford's office to thank him and urge him to continue to stand firm against this deceptive, animal rights driven legislation. Please click the orange tab below to send your email.
Please make the boiler-plate letter your own by using the talking points linked above.
First, Enter Your Zip Code