Protect Legal Business From Being Banned by Chicago City Council
Submit your OPPOSITION to the proposed BAN on the horse-drawn carriages in Chicago!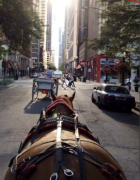 Please send your emails in opposition to the ban on horse drawn carriages in Chicago to the Committee on License and Consumer Protection by clicking the link below.
Any ban on working animals is one more way for the billion dollar coalition of animal rights organizations that raise money under the guise of improving welfare of animals yet actually use their funds to create animal rights-driven policy to meet their goal to create a no animal-ownership and no animal use society.
Please take one minute of your time to send your message to OPPOSE the Chicago Horse Carriage Ban.