Urge Oregon Lawmakers to OPPOSE HB3214 Criminalizing Animal Exhibition
HB3214 has been assigned to the Oregon House Judiciary Committee where this bill is scheduled to be heard on Thursday, March 16, 2023 at 8:00 AM Pacific Time in Hearing Room HR-D.


If passed, Oregon HB 3214 would prohibit the use of most exotic animals, as well as several groups of reptiles and tortoises, and many other animals that Oregon considers domestic livestock in "traveling animal acts."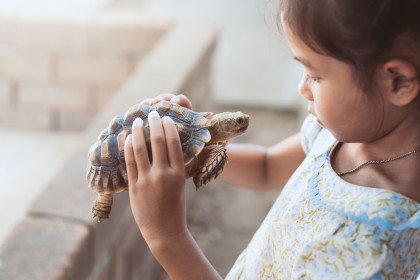 HB 3214 would deprive our school children, the general public, and especially our under-privileged residents, for whom an expensive trip to the zoo is not attainable, affordable options to learn about, and interact with, some of our most iconic animals. A person who violates this new law is subject to a $2500 fine, 6 months in prison, and may have to forfeit the animals involved in the violation.
Proponents of the bill say the bill is intended to protect animals from mistreatment and cruelty; however, the State of Oregon currently has in place multiple statutes that ensure safe and humane treatment of animals. Animal exhibitors are highly regulated by the US Department of Agriculture, Oregon Department of Agriculture and Oregon Department of Fish and Wildlife. Additional statutes regarding animal cruelty are repetitive and unnecessary.
Public exposure to animals listed in HB 3214 are important for a number of reasons. Without exposure and education about these species, the public may not understand the critical importance of conservation efforts underway to preserve endangered animals and their habitats worldwide. Exposure to animals in person often creates a bond or relationship that can't be gained by looking at a picture or watching a video. The future of wildlife depends on a caring and informed public. It is imperative that we foster appreciation and learning about these beautiful creatures through licensed, regulated, safe, and inspected traveling exhibits and school programs.
Sadly, because of the animal rights organizations' emotionally charged propaganda about animal exhibitors, it has become commonplace to believe that humane treatment is not exercised by caretakers of traveling animals and exhibits; but that could not be further from the truth. These animals are well respected and are provided with a life long medical care, environmental stimulation, and top-notch husbandry practices, all of which are already currently heavily regulated by the United States Department of Agriculture (USDA) under the Animal Welfare Act (AWA).
Those engaged in actual animal husbandry of animals know far better how to care for animals than well-intentioned urban activists. We must allow time-tested practices to proceed free of interference from over-regulation and bans, such as Oregon HB3214.
Any ban on animals enables the animal rights agenda-driven policy to meet their goal to create a no animal-ownership society. This is not a contrived mission, but well documented in publications that are available from the HSUS, PETA and other animal rights organizations.
There is no "crisis" in animal welfare to solve, and no data to support the need for HB3214. There is only propaganda intended to harm the rights of citizens and to destroy viable law abiding businesses, as well as the future of animal ownership in Oregon and across the United States.
Please do not allow the voices of a few to speak for the vast majority of people who love and appreciate the unique opportunity to see these amazing animals up close in Oregon for generations to come.
Take Action NOW to OPPOSE HB3214. CLICK link below and submit your letter directly to each member of the Oregon House Judiciary Committee.
Please do your part to ensure that Oregonians can continue to enjoy animals in our schools, at our fairs, circuses, parades, sportsmen's shows, fur and fiber shows, reptile shows and exhibits, nativity scenes, Scout days, etc., etc. It only takes a few short minutes!
It is important that you change the boiler-plate letter provided and make it your own! If you are unable to do so, please at least change the subject line to your own wording.

First, Enter Your Zip Code