The Lacey Act Amendments, AMERICA COMPETES ACT, Congress, Conferees
Urge Congressional Conference Committee to REMOVE The Lacey Act Amendments from America COMPETES Act
Both House and Senate versions of the America COMPETES Act are being reconciled in the Congressional Conference Committee that Speaker Pelosi announced on Thursday, April 7, 2022. The Conferees include both Members of the U.S. House of Representatives and U.S. Senators which will look at both versions, H.R. 4521 and S. 1260, and merge the two bills to be considered for a final vote in the Senate.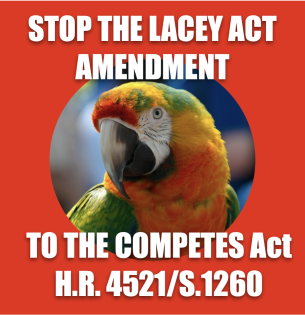 This campaign will allow you to send your message directly to Members of the Conference Committee as well as your U.S. Representative and U.S. Senators.
We ask that you review the information below and voice your opposition to the The Lacey Act Amendments to the America COMPETES Act directly to the Conference Committee and to your U.S. Representative and U.S. Senators.
Detrimental language modifying The Lacey Act has been amended to the America Creating Opportunities for Manufacturing, Pre-Eminence in Technology, and Economic Strength (COMPETES Act) H.R.4521/S.1260 in Section 71102.
On February 4, 2022, H.R. 4521 passed the House of Representatives 222 to 210.
Now, both versions of the COMPETES Act (H.R.4521/S.1260) are being reconciled in Conference Committee before it goes to a final vote in the Senate.
By using this campaign, your message will go directly to the Conference Committee AND to your U.S. Representative and U.S. Senators. PLEASE TAKE ACTION!!
Points of Concern about The Lacey Act Amendments to the America COMPETES Act (H.R.4521/S.1260):
These proposed amendments to The Lacey Act (HR4521, in Section 71102) would give executive powers to the Secretary of USFWS to label any species at any time as "injurious" which moves it to the list of banned species to prevent interstate transport.
The proposed amendments to The Lacey Act affects pets of ALL species except dogs and cats.
According to U.S. Association of Reptile Keepers, "only species determined to be non-injurious or an invasive species "risk" can continue to be imported into the United States. This dramatically skirts the regulatory approach from previously allowing individual jurisdiction to evaluate environmental and health threats to their region, without impacting entire industries or private individuals."
If these amendments were to pass, any species that are not on the "white list" will require legal challenges for importation which will impose potential legal fees, fines, and penalties and the possibility of prosecution as a federal felony if any violations are incurred.
If these proposed amendments to The Lacey Act were to pass with H.R.4521, importing or transporting animals across state lines would become unlawful, should those species not have cleared the process of being determined "not injurious."
At any time, a species could be banned, even on short notice bringing tremendous harm to the live animal economy while devastating manufacturers, distributors, and retailers impacted by these bans on the live animal industry.
Facts to Consider:
The Amendments to The Lacey Act ( in HR4521 Section 71102) would be detrimental to the following:
Domestic breeding programs preserve individuals of endangered or threatened species to prevent complete extinction. These programs also maintain the populations of non-threatened species so that they do not later become threatened.
Breeding programs promote genetic diversity. The repopulation of species in areas where individuals are limited increases genetic diversity in those areas by introducing new genetic material to the local gene pool.
Private owners of animals, active in wildlife reserves, zoos, circuses, game parks, and breeding facilities, are key to the survival of endangered species. Private owners contribute to breeding programs, promoting genetic diversity. Like any professionals, they are committed to the best possible outcome. To that end, private owners participate in interactive programs and interconnected partnerships to record and track data such as: paternity, maternity, breeding pairs, genealogies, genetic matches, and possible viable pairs. Private owners essentially carry a database of compatible matches in the animal world.
The Amendments (71102) to The Lacey Act threatens pet ownership, zoos, aquariums, and biomedical research.

For additional information about The Lacey Act click HERE.
Bottom line and what you can do:
Use this campaign to voice your opposition to the Lacey Act amendments to the COMPETES Act which will go directly to the Conference Committee AND to your U.S. Representative and U.S. Senators.
Make sure your opposition is heard by also making phone calls to your federal lawmakers in both the House and Senate. Often times phone calls carry more weight from constituents. You can find phone numbers for your U.S. Representative and U.S. Senators for both their Washington, D.C. offices and their local district offices by clicking HERE.
Talking Points for your opposition correspondence to the Lacey Act Amendment:
1. We are concerned ONLY with Section 71102 (the AMENDMENTS to the Lacey Act). It does not matter if it is in HR 4521 (the soon to go away Competes Act) OR in S 1260 which will replace it.
2. S 1260 (USICA – US Innovation and Competition Act) does not and never had Lacey Act language in it. We want all Lacey Act Amendments stricken from HR 4521 and not inserted into S 1260
3. Presumptive designation of ALL non-native/ non-domesticated (dogs, cats, domestic livestock) species as injurious and prohibitions on import into the US AND "transport" across state lines. This means you will be unable to take your exotic companion animal to a veterinarian if that veterinarian is in a neighboring state. Many states do not have veterinarians that treat exotic species.
If you move, or your animals are left to your family members after you pass on, you will not be able to transport them across state lines. This is particularly unfair to members of the military who are often required to move from state to state during their service to our Country.
Rescues will not be able to transport exotic animals from or to their facilities if the animal is in another state.
4. The Secretary of the Interior may prescribe by regulation an emergency declaration prohibiting importation of any non-native species without public comment, due process or prior notice.
5. Species will automatically be presumed to be injurious without due process, justification or prior notice, unless and until they are included on an as-yet nonexistent "white list". This process may take years to complete, given the numbers of fishes/ crustaceans/ molluscs, reptiles, amphibians, insects/ arachnids, birds, mammals kept as pets/companion animals in the US. There are around 20 million bird owners alone in the US.
6. The exotic animal industry in the US is a multi-BILLION-dollar industry that pays taxes in every state. Estimates by the Pet Product industry are over 100 BILLION spent annually on pets/ companion animals.
7. The Lacey Act amendments were inserted into the middle of the immense (3,000 pages) COMPETES Act bill quietly and without oversight, discussion, or passed through any committees in the hopes it would be overlooked. Several Legislators have spoken out against this sneaky practice and stated the Amendments would never pass as a stand-alone bill. This alone is reason to strike the language from the Bill.
8. Currently the Lacey Act has a "black list" of the small number of species known to be injurious. This is much easier to manage than a list that would eventually contain tens of thousands of species; fish and wildlife and other enforcement officials would be forced to learn to identify EVERY SINGLE SPECIES on that list instead of the relatively few already on the "black list". This poses an unfair burden on already overtaxed and understaffed fish and wildlife officials.
9. If a species is declared to be "injurious" in only ONE state it would then be declared injurious in EVERY STATE even if it could not survive in most locations. What will happen to people's pets when they are considered "injurious"? Where will they go? What will be done with them? Who wants to be the legislator responsible for taking people's pets???
10. Although federal law will not ban POSSESION individual states MAY do so. Again, this is unfair to animal owners and to their animals.
11. Contrary to what some legislators have been lead to believe, these amendments have NOTHING to do with wildlife trafficking.
---------------------------------------------
Additional information & Reference:
https://usark.org/2022LaceyFAQ/?fbclid=IwAR0ptvtDpEI24EbvQyABl6EEIUWJ1i5X5LjWb26gcyUzpfVxXQcyXrR7zAM



You can read Section 71102 of HR4521 at https://USARK.org/wp-content/uploads/2022/01/2022-HR4521-excerpt.pdf.
This language is the same as found in S626. You can read S626 at https://USARK.org/wp-content/uploads/2021/03/2021-S626-Lacey-Act.pdf
This article by Art Parola is well written and contains valuable information:
Article by Art Perola: https://usark.org/federal-legislation-threatens-pets-zoos-and-aquariums-and-biomedical-research/
Updated ALERT (March 6 2022) from USARK
https://usark.org/2022Lacey/?fbclid=IwAR0GpxcanjxIoZgWybbaOf5xEZZ7-wOwNgC8joTz09kOddNH9uO1gMBNO0U
Overview of the Lacey Act 16 U.S.C. SS 3371-3378
https://www.animallaw.info/article/overview-lacey-act-16-usc-ss-3371-3378
https://www.animallaw.info/statute/us-lacey-act-chapter-53-control-illegally-taken-fish-and-wildlife
First, Enter Your Zip Code