Clark County, Nevada, Big Cats, Tigers, PETA, animal rights
Urge Clark County Commissioners to Support Jay Owenhouse
Jay Owenhouse and his Las Vegas Show is being wrongfully blocked due to push back and propaganda from radical animal abolition organization, People for the Ethical Treatment of Animals (PETA).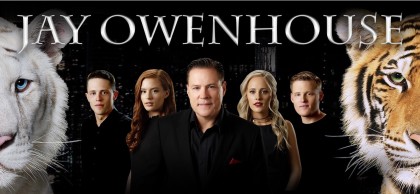 After an intensive 6-month investigation by Clark County Animal Control and Clark County Commissioner Jim Gibson, in July 2020, the Jay Owenhouse show and Tiger Habitat was approved for a 6 month special use permit on the Las Vegas Strip.
Permit approval was unanamious with all 7 Clark County Commissioners voting in favor of his show and Tiger habitat.
Later, due to the economic constraints of COVID, the land owners lost the property on the Las Vegas Strip in foreclosure and the show was not able to open.
In June of this year (2021), Jay Owenhouse found another piece of property to lease on the Las Vegas Strip. This piece of property is at the other end of the strip and in another Commisioner's district. Accordingly, Mr. Owenhouse had to go thru the entire approval process again and this time PETA is working overtime to try and prevent its approval.
PETA's campaign has been rife with lies and misleading information about Jay Owenhouse's show, his tiger habitat, and his 25-years of experience and handling his domestically raised big cats.
PETA is no expert or authority about animals. PETA is an animal rights extremist organization that is on a mission to remove all animals from human care while raising money in the process of destroying lawful animal-related businesses.
Ownhouse's Show is not only extremely popular but is an important resource for Las Vegans and visitors to experience his unique bond with his tigers.
Jay Owenhouse provides a crucial link in protecting the survival of big cats which are under attack in their native habitats.
Eliminating access to exotic animals would take away affordable options for less fortunate and under priviledged residents in Las Vegas reducing education opportunities to learn about these iconic animals!
Please click the link below to send your letter SUPPORTING Jay Owenhouse to the Clark County Commissioners. It is imperative your voice is heard!
Please modify the boilerplate letter to make it your own.
First, Enter Your Zip Code