The Cavalry Group
Horses
ban
Chicago
Chicago City
Horse-Drawn Carriage
Carriage On
Equine
Illinois
Help STOP Chicago Carriage Ban
Chicago horse-drawn carriages are under attack, AGAIN!

Recently, Chicago City Ordinance O2019-4125 passed unanimously out of the Chicago Committee on License and Consumer Protection, and now hangs in the balance awaiting to be voted on by the full Chicago City Council.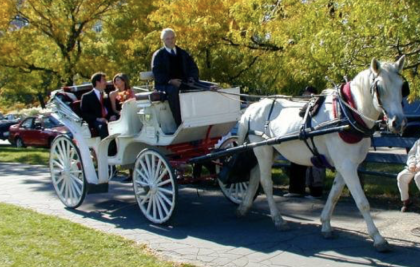 Please join us along with the Chicago carriage owners, Horse Council of Illinois, Illinois Farm Bureau, veterinarians, Protect the Harvest and other horse industry experts and OPPOSE this ordinance to ban horse-drawn carriages in Chicago.
This will be the animal rights groups' third push for Ordinance O2019-4125 to be passed in the Chicago City Council.
This ordinance amends Municipal Code by repealing various sections within Titles 7 and 9 and modifying various sections in Titles 2, 3, 4, and 7 concerning regulation and operation of horse-drawn carriages. Read the ordinance Click Here
Use the following information to guide your talking points for a letter to the Chicago Committee on License and Consumer Protection to OPPOSE this ordinance:
Chicago Carriage horses are already strictly regulated to ensure welfare and safety standards.
Chicago carriage companies have a perfect safety record.
Chicago carriage horses are overseen by an equine veterinarian to ensure their health.
Studies have revealed health benefits to children and adults when experiencing contact with animals.
Carriage horses are bred to work.
A carriage ban eliminates jobs for both horse and owner.
A carriage ban promotes the radical animal rights animal abolition agenda which establishes new precedents to restrict animal ownership.
Chicago Carriages operate under very strict protective measures to ensure content and healthy horses.
Horse drawn carriages have been present on Chicago city streets for centuries and preserve the last vestiges of our city's heritage!
To read more about the $2 Billion economic impact of the Illinois Horse Industry, Click Here.
To read about the animal rights lies DEBUNKED about horse-drawn carriages, Click Here.
Download PDF of Animal Welfare vs. Animal Rights - Know the Difference! Click Here.
We urge you to please click the tab below to send your letter to each Member of the Chicago City Council to OPPOSE Ordinance O2019-4125 to ban horse-drawn carriages, livelihoods, and a long standing tradition from Chicago.
Please use the template provided only as a guide. Please make the letter your own.
Thank you!
First, Enter Your Zip Code