OPPOSE Montana Senate Bill 320
Montana SB320 is an unconstitutional bill which is not intended to help or "save" animals, but rather chip away at Montanan's right to due process allowing for animals to be seized and distributed and requiring the owner to pay for the animals care after being seized before the owner is adjudicated in a court of law. SB320 completely goes against our U.S. Constitution's 4th and 5th Amendments.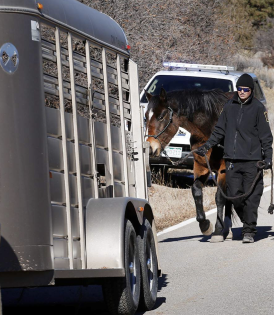 A recent ruling by the Supreme Court emphasized that seizure of property and assets without conviction is unconstitutional. The "U.S. Supreme Court ruled unanimously ... that the Constitution's ban on excessive fines applies to state and local governments, thus limiting their ability to use fines to raise revenue."
Forcing an excessive fine without a conviction is unconstitutional and yet, Senate Bill 320 is still being proposed.

Despite this type of bill being unconstitutional, laws similar to Senate Bill 320 are introduced often. The true goal of bills like this are not to "help" or "save" animals, but are the brain child of organization's and lobbyists who believe that any animal ownership is equated to slavery.

Bills like SB320 want to make it so expensive to own animals, such a liability to own animals, that people will be discouraged from owing or raising animals due to the potential financial risk of court costs and financial ruin of these excessive fees for the care of seized animals BEFORE a conviction.
Due process matters, and even in extreme cases where animals are in a vulnerable position, a seizure in place is less stressful for the animal and it also preserves the 4th Amendment of the Constitution.

The stress of handling in seizure situations negatively effects all animals; healthy and those at risk.

"Transportation is the single event we put animals through that causes the most stress" according to Karen Schwartzkopf-Genswein, a senior scientist with Agriculture and Agri-Food Canada.

Studies show that the best way to address any suspected neglect or abuse is to provide education and monitoring.

The first step should always be to allow the owner to rectify any issues or concerns. Not only does this often prevent the need for an illegal seizure, but it educates the owner, prevents unnecessary stress to the animals, and also eliminates the need for any outside agencies to pay for the care of the animals.
Legally, animals are property. This is what makes it a crime if someone steals your family dog or steals a herd of cattle. Animals should be cared for according to the needs of the species, and more often than not, the owner, now law enforcement or a rescue pushing for donations, knows what is best for the animal.

In a state like Montana where people rely on livestock for their livelihood and so much more, passing Senate Bill 320 sends a clear message that Montana is vulnerable to infiltration by organization's who do not believe in animal welfare, they believe in animal "rights" and they have a goal to end all animal ownership.
Montana constituents, please click the tab below to send emails to the Montana House of Representatives to OPPOSE SB320.
Please customize the sample letter included.
First, Enter Your Zip Code