Kingman, animal ban, ban, animal rights, The Cavalry Group, Mohave Fair
STOP THE ANIMAL EXHIBIT BAN IN KINGMAN, AZ
Animal rights extremists are working to wrongly influence the City of Kingman, Arizona to pass an ordinance that would prohibit the public performance of wild and exotic animals. The vote could be this Tuesday, July 16, 2019.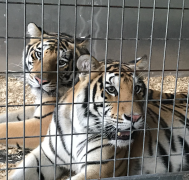 It states on the City of Kingman government website that the Mayor of Kingman requested a "discussion and resolution regarding the banning of 'dangerous animals' associated with circuses. This resolution focuses on the public safety aspect of these animals: elephants, lions/tigers, and bears. The attached report, while dated, shows many incidents across the world in which these animals escape their handlers and injure, maim, or kill innocent citizens."
We all know the radical animal rights groups are the ones doing the "directing" to mislead Mayor Jen Miles, City Council Members and City of Kingman Staff.
Mayor Miles, City Council Members and Staff clearly does NOT understand the importance of true conservation and the fact that exotic animal owners and exhibitors are providing an important link in protecting the survival of these specifies who are under attack or in some cases already extinct in their native environments.
It is imperative that we foster appreciation for these majestic creatures through entertainment and traveling exhibits since opportunities to see these animals up close in the Kingman, Arizona regios are rare.
Eliminating access to exotic animals provided by exhibitors would take away affordable options for less fortunate and under privileged residents in Kingman, Arizona reducing education opportunities to learn about, and interact with, some of the world's most iconic animals.
Please click the "Send Message" tab below to send your emails to the Kingman City Council Members to OPPOSE this misguided ordinance to outright ban legal and highly regulated businesses from displaying their animals in Kingman, Arizona.
Please customize the boilerplate letter given as a guide.
Thank you!
The Cavalry Group Team