Circus
Performing Animal
Elephants
TEAPSPA
MAINE: OPPOSE LD 396: A ban on elephants from traveling shows.
This bill prohibits the use of elephants as performers in

traveling animal acts, effective January 1, 2018.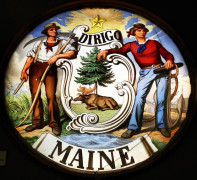 Please write to oppose the passing of LD 396 in the great state of Maine, a law which will ban elephants from all traveling shows. Maine has no zoos with elephants so this will prevent anyone in the state from seeing an elephant up close.
FOLLOW INSTRUCTIONS BELOW AND TAKE ACTION!
---
The points to oppose are as follows:
5-A. Mobile or traveling housing facility. "Mobile or traveling housing facility" means a transporting vehicle such as a truck, trailer or railway car used to transport or house animals while traveling for exhibition or other performance.
Sec. 2. 8 MRSA §471, sub-§7-A
7-A. Performance. "Performance" means any exhibition, public showing, presentation, display, exposition, fair, animal act, amusement show, circus, ride, trade show, petting zoo, carnival, parade, race or similar undertaking in which animals are required to perform tricks, give rides or participate as accompaniments for the entertainment, amusement or benefit of a live audience.
Sec. 3. 8 MRSA §471, sub-§9
9. Traveling animal act. "Traveling animal act" means any performance of animals when animals are transported to, from or between locations for the purpose of the performance in a mobile or traveling housing facility.
Sec. 4. 8 MRSA §477
§ 477. Use of elephants in traveling animal acts prohibited
1. Prohibition. Notwithstanding any other provision of law, a person may not allow the participation of an elephant in a traveling animal act.
2. Violation. A person who violates this section commits a civil violation for which a fine of not less than $500 nor more than $1,000 for each violation may be adjudged.
3. Enforcement; rules. An officer or agent authorized by the commissioner or a law enforcement officer of the State or of any unit of local government within the State may enforce the provisions of this section. The commissioner may adopt routine technical rules pursuant to Title 5, chapter 375, subchapter 2-A relating to the implementation of this section.
Sec. 5. Effective date. This Act takes effect January 1, 2018.
This bill is currently in the Committee on Agriculture, Conservation, and Forestry. You can cut and paste our attached letter and forward it to the committee! SEND YOUR LETTERS TO THE COMMITTEE MEMBERS VIA EMAIL:

sendavis@myottmail.com, drtom16@hotmail.com, jdill@umext.maine.edu, Michelle.Dunphy@legislature.maine.gov, Ralph.Chapman@legislature.maine.gov, Danny.Martin@legislature.maine.gov, Margaret.O'Neil@legislature.maine.gov, Russell.Black@legislature.maine.gov, Carol.McElwee@legislature.maine.gov, MaryAnne.Kinney@legislature.maine.gov, Norman.Higgins@legislature.maine.gov, Thomas.Skolfield@legislature.maine.gov, Kent.Ackley@legislature.maine.gov, rebecca.harvey@legislature.maine.gov,
This platform is an easy way to send letters and social media communication to MAINE legislators as a CONSTITUENT. Click one of the tabs below to get started.
If you are a constituent, the 'Send Message' tab sends a letter to your state representative and senator.
Don't forget to share on Facebook, Twitter, Pinterest, and Google+ using the buttons in the upper right corner of this page!