Urge Governor Murphy to VETO S1093/A1923
Please send a quick email to urge New Jersey Governor Phil Murphy to VETO this misguided legislation. This legislation equals a ban on carnivals, circuses, fairs, parades, petting zoos and other animal exhibitions and includes any species of mammals! See list of species below.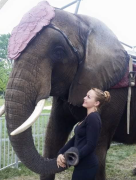 Sadly, Demcoratic-controlled New Jersey Legislature passed S1093/A1923 also known as Nosey's Law in the Senate by a 36-0 vote and the state Assembly 71-3 with three abstentions.
It's clear to us that the New Jersey legislators were either fooled or willing accomplices of the well-funded animal rights extremists.
This bill doesn't just affect elephants. The state defines exotic animals as "any species of mammal, bird, reptile, amphibian, fish, mollusk, or crustacean that is not indigenous to New Jersey as determined by the Fish and Game Council."
We urge you to PLEASE take one minute of your time to send a letter to Governor Murphy and ask him to VETO this legislation.