TAKE ACTION: Protect Legal Business and Consumer Choice in L.A.
Submit your OPPOSITION to the proposed BAN on the manufacture and sale of fur products in Los Angeles. Hearing date set for Tuesday August 15th, 2018.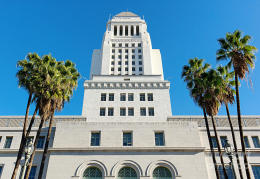 Please send your emails, letters, phone calls, and Tweets addressing the Personnel & Animal Welfare Committee to OPPOSE Los Angeles Ordinance #18-0538. Ordinance #18-0538 states: "Prohibiting the manufacture and sale of fur products, including apparel made in whole or in part of fur or any fashion accessory beginning January 1, 2020."
Deadline: Wednesday, August 15, 2018
Hearing to address this proposed ban is scheduled for Wednesday, August 15, 2018, at 2:00 PM - Room 1060.
This proposed ban, if passed, sets an incredibly dangerous precedent for incremental law. If they can pass a law banning fur, leather will be next, then all animal parts and tissue! Think about how this ban would impact the meat industry. Say goodbye to pig valves used in cardiac surgeries, and so on.
In their MOTION (attached HERE) of June 8, 2018, Los Angeles Councilmen Blumenfield, Koretz, and O'Farrell outline their reasons for this ban, all of which are not based on facts or science, but instead preys on emotions and false propaganda used to influence the passage of this ban.
The fur industry is a highly regulated industry where supply and demand should be the only driving force to decide its survival, not legislators who are engaged in efforts with animal rights groups who ban legal businesses which do not align with their ideology.
Any ban on animals is one more way for the billion dollar coalition of animal rights organizations that raise money under the guise of improving welfare of animals actually use their funds to create animal rights agenda-driven policy to meet their goal to create a no animal-ownership and no animal-use society.
Please take a moment of your time to send your message to OPPOSE this Ban on the making and selling of fur products in Los Angeles.